Out of Stock
JULIUS MEINL PROFESSIONAL ESPRESSO FORTE CAPSULE
Julius Meinl PROFESSIONAL Espresso Forte Capsule

A blend that mixes premium Arabica from South and Central America and Robustas from Asia. The very intense aroma and persistent flavour, recalling dark chocolate, immerse you into an intensive and intriguing world of sensations.
Beans :
Roast Level 1-6 :

Acidity :

Sweetness :

Body :

Crema : Rich Cream
Aroma : Citrus & tropical fruit
Flavor : High aromatic, characterized
Capsules 816 g ground,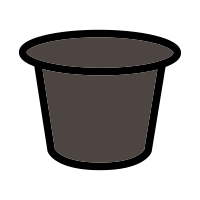 1 box (96 x 8,4 g /box)
These capsules are compatible with Lavazza Blue® machines.